Boycott China for Human Rights in China, Tibet and Taiwan
Chinese parents go public to help gay sons, daughters
By Mei Jia (China Daily)
(Edited)
Updated Apr 16 2009
Original story
When Sun Dehua heard that his only son Sun Mu was gay, he stormed off to find the young man, kitchen knife in hand. Consumed with intense anger, he just wanted to kill his son -- and himself.
Sun comes from rural Dalian, in Northeast China's Liaoning province, where sons are still expected to carry forward the family line. For four generations, the Sun family has had only one male descendant. Old Sun naturally expected that his son would dutifully get married and produce an heir. The 55-year-old farmer had no idea about homosexuality, other than the stigma attached to it.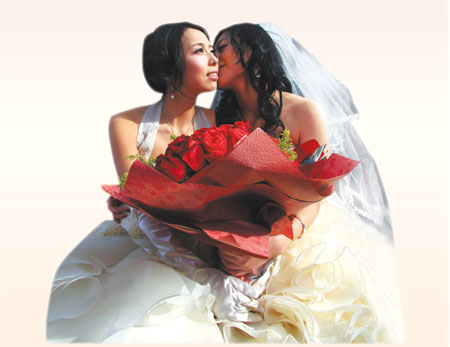 Two lesbians pose in wedding gowns at Beijing's Qianmen Street
on Valentine's Day as an attempt to raise awareness of gay rights.
[Courtesy of Beijing Tongyu Group]
Thousands of miles away in South China's Guangzhou, Guangdong province, Zheng Yuantao encountered a dramatically different reaction from his mother when the 19-year-old high school student said, "Mom, I think I am in love with boys."
Zheng's mother Wu Youjian calmly raised three questions in a gentle voice:

"I know homosexuals are in a minority, so how did you find a partner?"

"Do you know how to protect yourself from the risk of an infection?"

"You are still so young. How can you be sure you will never fall in love with girls?"
Though Sun and Wu reacted in very different ways to their sons' choices, they have since accepted the fact and support their children.
Not only have they revealed their names in the media, the two also run hotlines for gay and lesbian groups.
Although the two are rare examples, they signal the growing tolerance of Chinese society.
In 2001, when Sun Dehua's son revealed his sexual orientation, his wife had to fight him to stop his murderous attempt. Sun turned a deaf ear to everyone who tried to plead his son's case, until the day Yuan Suoxian arrived.
Yuan, an expert on sex education and a veteran practitioner of traditional Chinese medicine (TCM) with Dalian TCM Hospital, had come to know Sun Mu and became Sun's good friend.
It was not easy at first to calm the furious father. But, he was softened after Yuan's persuasion.
"The specialist told me not to let rage blind me and told me to see how excellent and responsible my son is. He said homosexuality is not a disease," Sun says.
Sun became willing to talk to his son's gay friends and came to understand their pain. Finally he concluded, "They are very nice people."
A year after the knife incident, he bought a house for Sun Mu and his partner surnamed Wang. He calls it a token of his acceptance of Wang as another son of his.
In 2005, he became a full-time volunteer with a Dalian-based group that works with gays and started the Comrades' (Gays) Parents Hotline, the first of its kind on the Chinese mainland.
Sun has been giving advice and providing support to parents as shocked as he was, at first. He has taken more than 1,600 phone calls and is known affectionately as "Papa Comrade".
Things were a lot easier for Wu Youjian, a former editor of a literature magazine based in Guangzhou. Traditionally, Guangdong province has produced many pioneering thinkers, such as Kang Youwei, the social reformer of the late Qing Dynasty (1644-1911) period.
But it is Wu's distinctive personality that sets her apart from other Chinese parents who blame themselves for their children's "misguided" sexuality.
"To be upright and genuine is what I learnt from my father. I'm grateful Yuantao learnt that from me. Since fate has ordained that I should have a gay son, I accept it," Wu says.
In 2005, she became the first Chinese mother to go public about her child's homosexuality. During a program with the Southern TV Station in Guangzhou, she boldly revealed her real name, profession and background.
Wu has devoted herself to helping the gay and lesbian community, despite some allegations that she is after fame.
"She needs the publicity so that she can raise awareness and do her work," explains her son Zheng, who is now 29.
Like Sun, Wu started a hotline in 2008. But unlike Sun, whose family members shun the media, Wu supports her cause with a highly supportive family.
She maintains an online blog and travels nationwide to give lectures and visits parents with gay and lesbian children to offer support. She is known in these circles as "Mama Wu".
This January, Papa Comrade and Mama Wu met in Guangzhou at the first mainland Gay & Lesbian Parents Forum organized by Wu and her group. They discussed how to help people come out in the open about their sexual orientations.
The situation facing them is not welcoming but changing. The 2007 survey on "Public Attitude Toward Homosexuality" by renowned sociologist and sexologist Li Yinhe indicates that 11.5 percent of Chinese will completely embrace a gay or lesbian family member, while 11.3 percent will not do so, with the vast majority of 74.3 percent saying they will accept, in the hope that their children will go mainstream with their sexual preferences in the future.
Most Chinese parents with a gay or lesbian child still have a "don't ask (the children) and don't tell (the others)" attitude.
"It's nice to see parents taking a more open attitude," says Li, who has been striving for the protection of the rights of gays and lesbians.
Indeed, as Guangzhou-based writer Huang Tianyuan, also an old friend of Wu's, puts it, "In China we need a mother like Wu to stand up and speak aloud."
---